Staff
Jonathan L. Masel, M.D., F.A.C.S.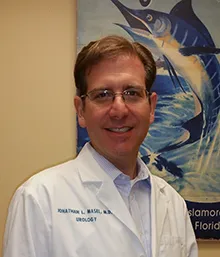 A Hollywood, Florida native, Dr. Masel started his private practice here in the year 2000. He graduated from the University of Pennsylvania in 1989 with a Bachelor's Degree in American History. After completing all of his medical and urology training in Florida, first at the University of Miami and then at the University of South Florida, Dr. Masel chose to travel to New Zealand for a one-year fellowship in endourology. This research experience has given him further expertise in the use of small endoscopes, laparoscopic surgery, Robotic surgery and Laser surgery. Dr. Masel has extensive expertise in all laser techniques for the treatment of benign prostatic hyperplasia (BPH/prostate enlargement).
Dr. Masel specializes in minimally invasive and laparoscopic surgical procedures. This includes office-based prostate procedures, no scalpel vasectomy, minimally invasive repairs for urinary incontinence, laparoscopic radical nephrectomy and partial nephrectomy, and a wide variety of robotic laparoscopic procedures. He has been using the Robotic da Vinci Surgical System extensively since 2003 to perform robotic laparoscopic radical prostatectomy, pyeloplasty ("UPJ Repair"), adrenalectomy, radical and partial nephrectomy and complex pelvic surgical reconstruction on many patients. Dr. Masel has also worked with the da Vinci manufacturer to train other surgeons on the use of the da Vinci surgical robot.
Dr. Masel is especially interested in the treatment of prostate disorders, urinary incontinence, urologic oncology (cancer), erectile dysfunction, female sexual dysfunction, and kidney stone treatment. Dr. Masel maintains privileges at all Memorial Healthcare Hospitals, and several local outpatient surgery centers. Our office is located at the corner of 40th Street and Sheridan Street in Hollywood, Florida.
Dr. Jonathan Masel is certified by the American Board of Urology and is a Fellow of the American College of Surgeons.